News - X-Life 18: Nuclear Reaction powered by Seasonic
Gepost op: dinsdag 28 juli 2015 om 13:01

Ok, de titel is misschien wat misleidend, want Seasonic sponsort geen kerncentrale voor in je pc. Maar een krachtige voeding, daarvoor ben je bij Seasonic wel aan het goede adres! Daarom stellen we jullie graag voor aan deze sponsor...
Seasonic omschrijft zichzelf als volgt:
Sea Sonic Electronics Co., Ltd was founded more than 35 years ago by engineers. Through these years the company has rigorously maintained its focus on the research, development and production of technologically advanced, high quality
products. In 1981 Sea Sonic expanded into the production of PC power supplies and with this it became one of the first
manufacturers on this market. Soon after, power supply manufacturing became the core identity of Sea Sonic. As a
result of continuous advancement in technology, the establishment of the Seasonic brand name has not stayed far behind, and today the Seasonic power supply is the equivalent of high performance, excellence and reliability.
As a leader in innovation, our company's main focus is to bring the best value and the latest technology to our customers, who require advanced features combined with perfect performance and total reliability. The strong competition in the IT industry gives us constant challenge, which strengthens our resolve to become and stay the best. This is our obligation to ourselves and to all our customers. Sea Sonic is a truly global company. Headquartered in Taipei, Taiwan, we export our products worldwide from our factory in China to offices in the USA, Europe, Japan and the rest of the world. Independent testers, reviewers and editors all over the world consistently rank Seasonic products among the best in terms of technology, performance and reliability. We regularly receive enthusiastic feedback from PC fans, over-clockers and gamers from every corner of the globe, which further fuels our commitment to search for excellence in the international arena.
We, at Sea Sonic, strive to develop long term, reliable relationships with business partners who value our products and share our goals and philosophy. It is our mission to develop long term, mutually beneficial partnerships and to provide timely and professional solutions to meet the IT industry's requirements.
Seasonic vult de prijzenpool van X-Life 18: Nuclear Reaction met hun M12II-620 EVO 620 Watt voeding. Met een score van 4,5/5 op Tweakers mogen we deze voeding absoluut tot de toppers rekenen.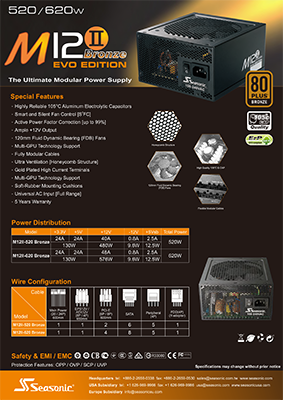 Met welke compo je deze prijs in de wacht kan slepen maken we later bekend, dus voor nu is ons enige advies...
GAME ON!
(Oh, en inschrijven natuurlijk, als je dat nog niet hebt gedaan
)
REACTIES
Gepost door:

ITizEasy

op zondag 9 augustus 2015 om 14:06

mocht ik komen en ik mocht hem winnen mag je een andere winnaar trekken
heb een V1200 CM
Je moet ingelogd zijn om te kunnen reageren. Klik
hier
om in te loggen.
Meer nieuws
[27-11]
X-Life X-mass = VOL!
[24-08]
X-Life X-Mass: 8-9-10 december 20...
[11-05]
Unreal Tournament competitie op X...
[17-02]
Een nieuwe opzet, een nieuwe naam!
[24-11]
X-Mass 2k16: Make X-Mass Snowy Ag...
[03-09]
X-Life 19 time-lapse
[28-08]
X-Mass 2k16 aangekondigd!
[22-08]
OMG wat een fun-compo
[17-08]
Extra plaatsen beschikbaar
[04-08]
Plaatsindeling gewijzigd
Meer